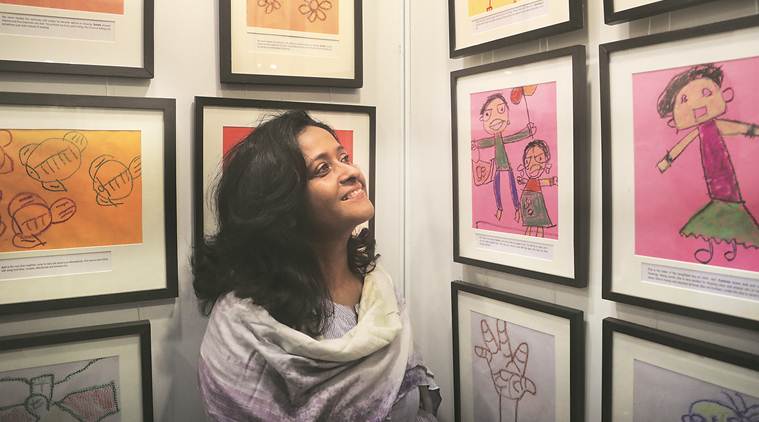 As the air quality in Delhi remained in 'severe' category, art enthusiasts, with their masks on, were seen entering a hall at Thyagaraj Sports Complex on a smoggy Thursday morning. Welcoming them were over 4,500 works by over 400 artists that comprise the fifth edition of The India Art Festival in Delhi. "The art market is going through a metamorphosis in this decade. It has made big and small art fairs create a richer, deeper dialogue," says festival director Rajendra.
The showcase features works of prominent artists alongside the up-and-coming. If the booth of Baroda-based Exclusive Art Gallery only has prints and serigraphs of MF Husain, right at the entrance is a stall by The Lexicon Art Gallery that is showcasing works by masters such as Manu Parekh, Thota Vaikuntam, Satish Gujral and Jogen Chowdhury. Also attracting attention at the stall is Ashish Singh Tyagi's Gyan Mudra — Krishna, an acrylic on fibre sculpture, in the shape of a hand mudra, with Krishna as the central protagonist.
Having participated in the event last year as well, Kapil Sharma of F&P Art Gallery notes how he brings a selection to the festival that best represents his art. One of the artists participating in the festival with a solo booth, Mumbai-based Sushma Bengani hopes to impress viewers with her works in resin. Working in the medium since three years now, she says, "I have shown at previous editions of the festival in Mumbai, and the response encouraged me to come to Delhi as well. I have heard that the Delhi market is very good."
Also a repeat exhibitor at the festival, Vinayak Bhandari from Udaipur has dedicated his stall to Pichwai art this year. "People are increasingly getting interested in traditional art," says Bhandari. Dehradun-based Pritam Mehta, meanwhile, was seen explaining to curious visitors the process of pyrography — a technique of burning wood with special handheld tools to create patterns. His wall art and tables in camphor wood and European beech wood focus on themes from nature.
If artist Suresh Nair has acrylic paints for the visually-impaired, with each of the 10 colours in a set having a unique fragrance, for instance vanilla for white and lime for yellow, for artist Shivani Bharadwaj the festival is a means to take drawings of visually-impaired children to the public. Conducting workshops with blind students, between the age of 5 to 15 years, at the Janta Adarsh Andh Vidyalaya and Institution for the Blind in Delhi, she is teaching them how to draw. "These children have never held a crayon but are extremely keen to learn," says Delhi-based Bharadwaj. Each artwork at her booth also shares details about its creator.
The festival is at Thyagaraj Sports complex till November 17, 11 am to 8 pm. Entry free